Dr. Joseph E. Woods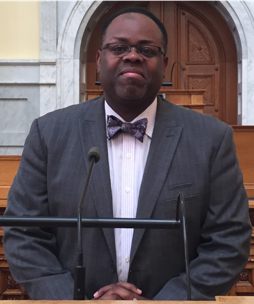 Dr. Joseph E. Woods is a native of Montclair, NJ. He is the youngest of three children born to Dr. William E. and Mrs. Mattie L. Woods. He is married to Lady Heather Woods; they have four children and one grandchild.
He is a prepared man that holds four earned collegiate degrees, all with honors, culminating with a Doctorate of Biblical Studies in Biblical Counseling in 2007. He has attended Montclair State College (now University) of Montclair, NJ, Lancaster Bible College of Lancaster, PA, and Master's International School of Divinity of Evansville, IN. He is currently enrolled in Southern New Hampshire University pursuing studies in the field of Business Administration in Organizational Leadership, and maintains a 4.0 GPA and is listed on the President's List. In 1993, he was listed in the National Dean's List for American Colleges.
His Christian journey began at the Bright Hope Baptist Church, where his father served as pastor. He preached his first sermon at the age of three. He was licensed to preach the gospel at the age of eighteen. He was later ordained at the age of twenty- one by the North Jersey Missionary Baptist Association, representing sixty-three churches. He began his pastoral journey over twenty-two years ago, and since 2010 has led the congregation of the Saint Phillips Baptist Church of Hamilton, NJ where the church has experienced massive spiritual, fiscal, and numerical growth.
Beyond the church, he has served as Civil Rights Commissioner for Montclair, NJ and Housing Authority Commissioner for Morris County, NJ. He is the founder and moderator of the Higher Ground Association of Baptist Churches, Inc. home to eleven churches spanning from Burlington to Essex County, New Jersey. He served with honor and distinction as the General Secretary of the General Baptist State Convention of NJ, and is currently the State Director for Christian Education. He has served as an instructor to the National Baptist Congress of Christian Education, and also served the National Baptist Convention USA, Inc. with the Foreign Mission Board, Disaster Management, and Faith-Based Initiative. These are just a few of his accomplishments.
Dr. Woods is the recipient of numerous awards and citations due to his leadership in the church and community. He is a much sought after preacher, teacher, lecturer, leader, and revivalist. He is a pioneer and trendsetter of Word-based, Christ- centered ministry, and a builder of lives and leaders worldwide.